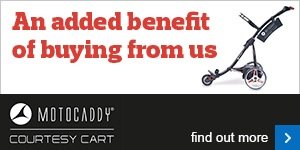 Picture the scenario..
You have a round of golf with the family planned and you're keen to impress. As you have some free time the day before, you decide to come down the club and play some holes to get rid of any rust in your game. When you come off the final green your electric trolley starts to play up and cuts out by the time you get to the car park.
You start to fear the worst as you push it round to the pro shop as you might have to cancel the game with your family the following day. A member of the team inspects your trolley and tells you it's in need of a service but we won't have it ready in time for your game tomorrow.
This is where our Courtesy Cart comes in...
Whilst your trolley is in with us for a service we can now offer you our Courtesy Cart to use the following day when you play, meaning you can take to the course with the family as planned. Panic over.
It's a fantastic benefit that we're delighted to provide for our members, so if you're thinking of buying an electric trolley this year then you'll certainly have peace of mind thanks to this new service.
To find out more about the different trolleys in Motocaddy's range, please visit our website here.